Haddonfield Schools
Building Top SAT Scores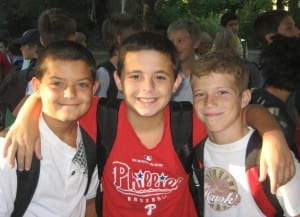 The widely recognized Haddonfield Public Schools district welcomes students in grades 7, 9, 10, 11 and 12 to fill a limited number of openings in the general education programs of its middle and high schools. We recognize that a student's middle school experience lays the foundation for high school achievement. That's why Haddonfield's curriculum is a step-by-step continuum. Each year builds on the one before it.
The school's curriculum includes Math 6, Accelerated Math 6, Math 7, Accelerated Math 7, Pre-Algebra 8, Accelerated Algebra I, and global languages German, French and Spanish. The middle school academic programs are enhanced by the school's 1:1 Chromebook program.
But middle school isn't all work and no play. Outside of regular school hours, Haddonfield Middle's "curricular extensions" let students explore other paths and interests. These include Gay-Straight Alliance, Diplomats for Diversity, Coding Club, HMS Drama Club, a state-recognized Sea Perch program and Math Counts. The school also has a robust Peer Leadership program that involves students in community service projects, helps them learn to avoid destructive decisions (especially with respect to alcohol and drugs), and builds school pride.
Those are among the 30 co-curricular clubs and activities available to our middle and high school students. In addition, student-athletes have a range of teams to consider.