Haddonfield Schools
Building Top SAT Scores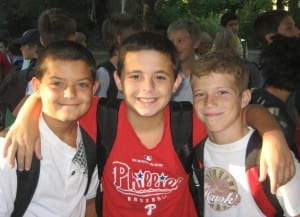 The widely recognized Haddonfield Public Schools district welcomes students in grades 6 through 12 to fill a limited number of openings in the general education programs of its middle and high schools. We recognize that a student's middle school experience lays the foundation for high school achievement. That's why Haddonfield's curriculum for grades 6 through 12 is a step-by-step continuum. Each year builds on the one before it.
At the middle school, teachers work as teams to cover core curriculum subjects, forming an important bridge between the one-teacher familiarity of elementary school and the multi-teacher structure of high school. The school's curriculum includes Algebra I in seventh grade and Algebra II in eighth grade, which prepares interested students for upper-level math in high school. Students can choose from three world languages: Spanish, French and German.
But middle school isn't all work and no play. Outside of regular school hours, Haddonfield Middle's "curricular extensions" – like robotics workshops and the well-known Odyssey of the Mind program – let students explore other paths and interests. The school also has a robust Peer Leadership Program that involves students in community service projects, helps them learn to avoid destructive decisions (especially with respect to alcohol and drugs), and builds school pride.
Those are among the 30 co-curricular clubs and activities available to our middle and high school students. In addition, student-athletes have a range of teams to consider. While many families consider ninth grade as a time to consider a new school, Haddonfield encourages parents and students to rethink sixth grade as the optimal transfer point. That earlier timing sets the middle school student on a path for high school success. And because students from three elementary schools come together at Haddonfield Middle, there's no better time for a newcomer to blend in. Everyone's new in sixth grade!