Accolades
Haddonfield Memorial High School ranked as the best public school.
Haddonfield Memorial High School won another honor when Newsweek magazine ranked it as the best public school in South Jersey, and 84th among high schools in the nation. The magazine calculated HMHS college readiness better than 85 percent in the country.
With average SAT and ACT scores that are recognized as among the best of South Jersey's public high schools, the school ranked in the 65th percentile for that measurement. It ranked at the 71st percentile for the number of students who take college-level courses in high school.
Newsweek also gave HMHS a Gold Star that recognized schools where economically disadvantaged students – who tend to face academic challenges – beat the odds by performing at or above their state's average.
US News & World Report: HMHS is Best in South Jersey

The reputable magazine's annual ranking puts Haddonfield Memorial High School at #129 in the country for Science, Technology, Engineering and Math (STEM) achievement – an honor based on student participation in and performance on AP science exams. HMHS also maintained its Gold Medal status on other academic measures, ranking #17 in the state for 2015 – better than any other high school in the tri-county area.
Community Cross-Section with Outstanding Results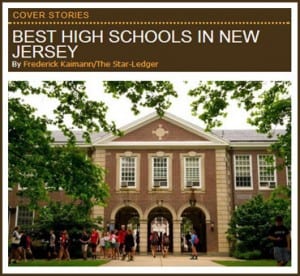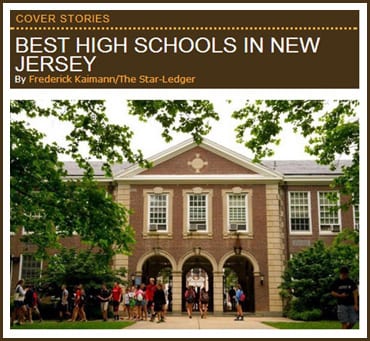 A multi-factor matrix highly ranks Haddonfield Memorial High School among other schools in New Jersey, and across the board gives it the highest score among South Jersey high schools. Haddonfield schools offer a diverse community cross-section: an outstanding public school that produces like an elite private school.
Click the column headings in the Star-Ledger's report to see how HMHS outscores all competitors in the tri-county region.
HMHS Ranks with Top Private Schools

Suburban Family magazine profiled the best public and private high schools in South Jersey. Haddonfield Memorial High School won a spot alongside more expensive and religious-oriented private schools because of the way its enhanced curriculum provides a head start on higher education.
Read the profiles of top South Jersey high schools.
Tuition Program Attracts from Near and Far
Students from across South Jersey and from across the river have been attracted to Haddonfield schools. A few commute via PATCO from Center City Philadelphia. They've been well accepted, suitably challenged, and happily successful.
A Philadelphia Inquirer story  covered the issue.
Haddonfield students experience Drexel learning
A unique partnership between HMHS and Drexel University allows students to enroll in summer or school-year learning experiences. See coverage in the Courier-Post or learn more.